What do we really know about violence and why does it happen? Someone tries to justify the rapist, someone blames herself. For some, this is a terrible routine that a person faces daily, but is afraid to share and believes that someday this will pass and everything will change. But violence happens again and again… On November 25, the Day for the Elimination of Violence Against Women, the International Campaign "16 Days of Activism against Gender-Based Violence" will begin and last until December 10 – Human Rights Day. Within its framework, REAct organizes a series of webinars to support, protect and prevent a situation in which, alas, each of us may find ourselves.
In 2023, we encourage new listeners to view the webinar recordings. From November 25, 2023 to January 31, 2024, each participant receives a unique opportunity to take a short test and receive a personalized online certificate.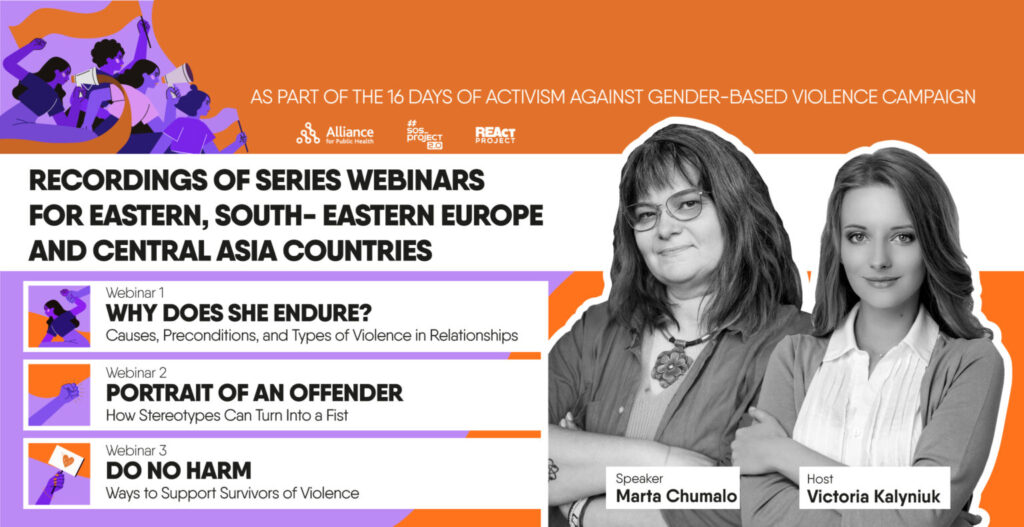 The first webinar "Why does she endure? Causes, Preconditions and Types of Violence in Relationships" is devoted to the consideration of what distinguishes violence from other human relationships (primarily from conflict) and how it becomes an ordinary fact in a person's life. Models of the Wheel of Violence will be presented – why women often return to the abuser, which strategies of psychological violence are most often used before physical violence, and what lies at the very root of this factor. The webinar participants will learn why women are afraid to defend themselves (helplessness syndrome) and how to help survivors get out of it, as well as learn to recognize the dangers of abusive relationships and ways to counter these challenges.
The second REAct webinar will be dedicated to the topic "Portrait of an Offender: How Stereotypes Turn into a Fist." Participants will consider the main hypotheses about who and how becomes an offender (psychological portrait). Dobash&Dobash research will be presented, explaining the common core beliefs of rapists about themselves, the world and women, their stereotypes, as well as the so-called murder plot for Jane Monckton-Smith (special signals that indicate danger in a relationship). We will consider the psychological portrait of the offender – how to recognize the rapist? Based on a study in a Canadian prison, why do obedient boys grow up to kill women? How do beliefs and stereotypes fuel domestic violence? Warning signals: how to understand that he will soon hit her (Study "Murder Graph"). Mechanisms for the prevention of violence in society.
The third in a series of webinars on "Do No Harm: Ways to Support Survivors of Violence". We will consider the key tools for effective assistance to the victim, stabilization of her condition, discuss what should be taken into account and what to avoid, we will talk about interaction with law enforcement agencies in cases of violence. And also, we will dwell on secondary traumatization and methods of its prevention. We will look at how to properly help the victim and what (not-) should be done during a conversation with the victim. "My police protect me": how to properly interact with law enforcement agencies in cases of violence and why "Can you make peace?" does not work. And also, let's dwell on secondary trauma: why she is forced to talk again and again about the violence she experienced during the investigation and trial.
Speaker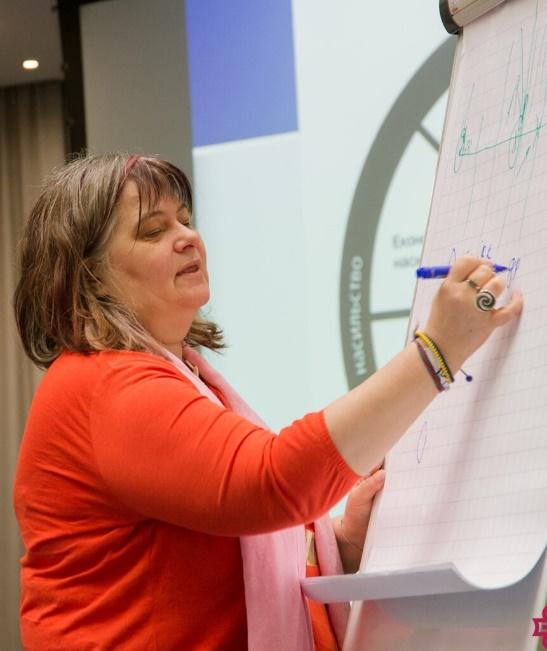 Marta Chumalo is a Ukrainian gender expert, feminist, co-founder of the Women's Perspectives Center, human rights activist, and psychologist with experience in helping victims of gender-based violence. For more than 25 years she has been working on gender equality and women's rights in Ukraine and beyond.
___________
Visit useful materials on the REAct website for more useful courses andpublications. Operative data regarding human rights violations of vulnerable to HIV/AIDS communities is available as well on country data factsheets. Read more success stories of response here.